1,500 bodies of Hamas militants found in Israel as it claims full control over border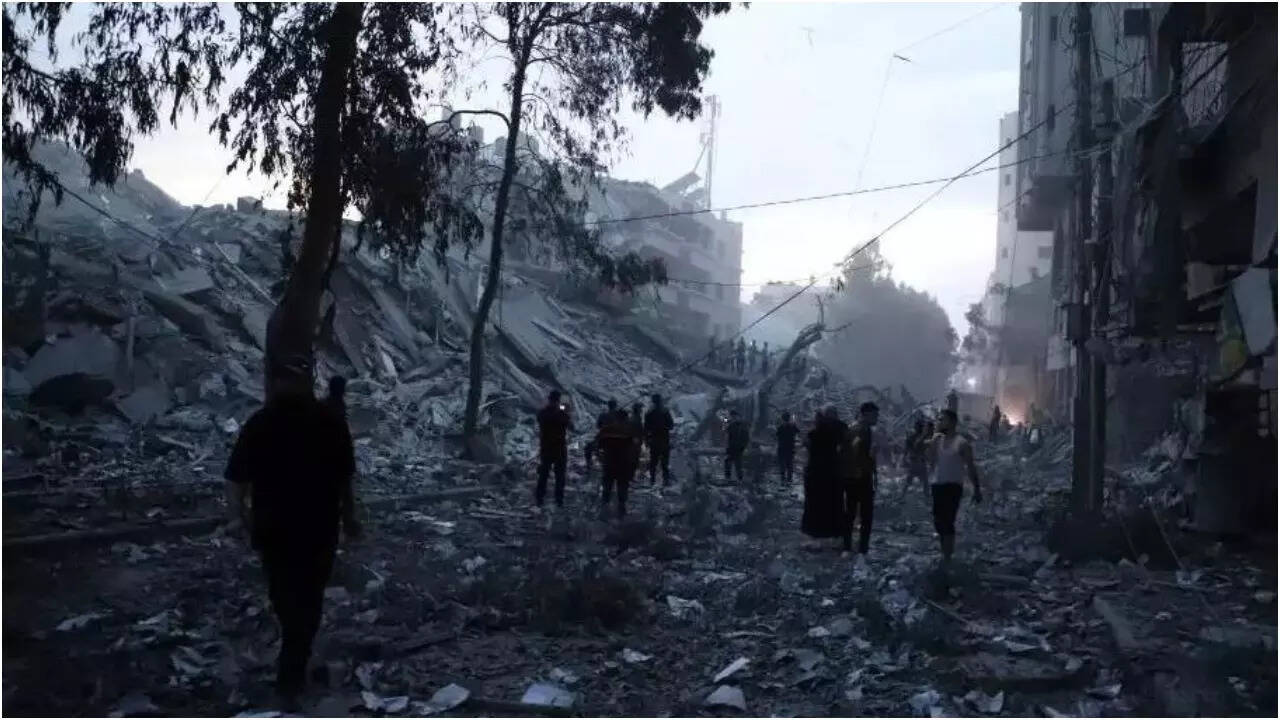 The Israeli military said it had largely gained control in the south and "restored full control" over the border. Spokesperson Richard Hecht said 1,500 bodies of Hamas militants have been found in Israeli territory and no Hamas fighters have crossed into
Israel
since Monday night, although infiltrations could still be possible.
Hecht said the military struck hundreds of Hamas targets overnight in Gaza's City Rimal neighborhood, which is home to many of Hamas' ministries and government buildings. He said residents were being notified over social media before the strikes to evacuate, but did not elaborate further. He suggested that Palestinians should try to leave through the Rafah crossing, though he did not specify where they would go or how they would use the crossing that is periodically closed.
Japan's top government spokesperson pledged Tuesday to do the utmost to protect the safety of a small number of Japanese citizens in the conflict area, condemning Hamas and Palestinian militants over their attacks on citizens. Japan is also carefully watching the development out of concern about energy supply. Japan imports more than 90% of its oil from the Middle East.
A vigil for victims of the attacks in Israel at the University of Florida erupted into chaos over a misunderstanding and at least five people were hurt, officials said.
A crowd gathered at the Gainesville campus for the "United With Israel" candlelight vigil when someone fainted and others began calling for people to call 911, the UF Police Department said in a statement. "The call was misunderstood by the crowd, which dispersed in a panic," the police statement said. Five people were treated at the scene for minor injuries, campus police said.
Eighteen Thais are feared dead based on reports from employers, while the numbers of those injured and abducted stand at 9 and 11 in the fourth day of the latest Israel-Hamas war, Thai Foreign Ministry spokesperson Kanchana Patarachoke said Tuesday.
She said more than 3,000 Thais have registered for repatriation. The first batch of 15 evacuees is scheduled to board a flight to arrive in Thailand on Thursday. She said Israel told Thailand's foreign minister that it will try its best to take care of Thai workers.
Thai Ambassador to Israel Pannabha Chandraramya said the embassy is in touch with Israeli authorities about Thai nationals who have been abducted, but has not been informed of their conditions or whereabouts.
Hong Kong leader John Lee said Tuesday the government had received requests for assistance from 28 Hong Kongers, and 20 of them already left Israel. Authorities will keep in contact with the remaining eight and make arrangements according to their needs, he added.
Lee said in his weekly press briefing that the government issued a red outbound travel alert for Israel, which means people should avoid non-essential travel to the country.
Israeli Prime Minister Benjamin Netanyahu declared on Monday that Israel's fierce offensive against Hamas in the Gaza Strip has "only started."
Netanyahu delivered the pronouncement in a nationally televised address as Israel pressed ahead with a third day of heavy airstrikes in Gaza following Hamas' unprecedented and deadly incursion into Israel.
"We have only started striking Hamas," he said. "What we will do to our enemies in the coming days will reverberate with them for generations."
Israel formally declared war on Sunday. The hostilities so far have killed around 900 people in Israel and more than 680 people in Gaza, according to authorities on each side.
An Israeli airstrike in Gaza City killed two Palestinian journalists early Tuesday, according to the Palestinian news agency Wafa.
Wafa identified the journalists as editor Saeed Al-Taweel and photographer Mohammed Sobih. The airstrike occurred close to an area housing several media offices.
Three Palestinian journalists reportedly were shot and killed while reporting in Gaza on Saturday. The Committee to Protect Journalists, citing Palestinian press freedom groups, identified two of them as photographer Ibrahim Mohammad Lafi and reporter Mohammad Jarghoun. CPJ said it confirmed that freelance reporter Mohammad El-Salhi also was killed.
Lafi worked for Ain Media, and Jarghoun reported for Smart Media, CPJ said.
Israel's military said early Tuesday that a deputy Israeli commander was killed in clashes on the northern border with Lebanon.
The military identified the deputy commander as Alim Abdallah, but did not specify the exact circumstances of his death.
Palestinian militants from the Islamic Jihad group slipped from Lebanon into Israel, prompting Israeli shelling into southern Lebanon. Lebanon's Hezbollah militant group said five of its members were killed, and it retaliated with a volley of rockets and mortars at two Israeli army bases across the border.
As retaliatory Israeli airstrikes continue, more than 187,500 people have been displaced in Gaza since the beginning of the conflict, according to a report from the UN Office for the Coordination of Humanitarian Affairs.
UNRWA, the UN agency for Palestinian refugees, is hosting more than 137,000 people in schools across the territory. The report says airstrikes have razed 790 housing units and severely damaged 5,330 in the territory of 2.3 million people.
OCHA said damage to water, sanitation and hygiene facilities in Gaza has disrupted service for more than 400,000 people.
The Israeli military said early Tuesday that it struck two tunnels used by Hamas militants to enter Israeli territory.
The news came a day after 70 militants infiltrated the Be'eri kibbutz Monday night. The small farming community has been a flashpoint of the conflict — the scene of a hostage standoff during the attack.
Authorities did not immediately provide more information on the location of the tunnels.
The militant group has used tunnels in the past. It has an established a network running from Gaza to Egypt to smuggle in weapons, as well as attack tunnels burrowing into Israel.