Aid trucks that arrived in Gaza did not contain fuel supplies: Report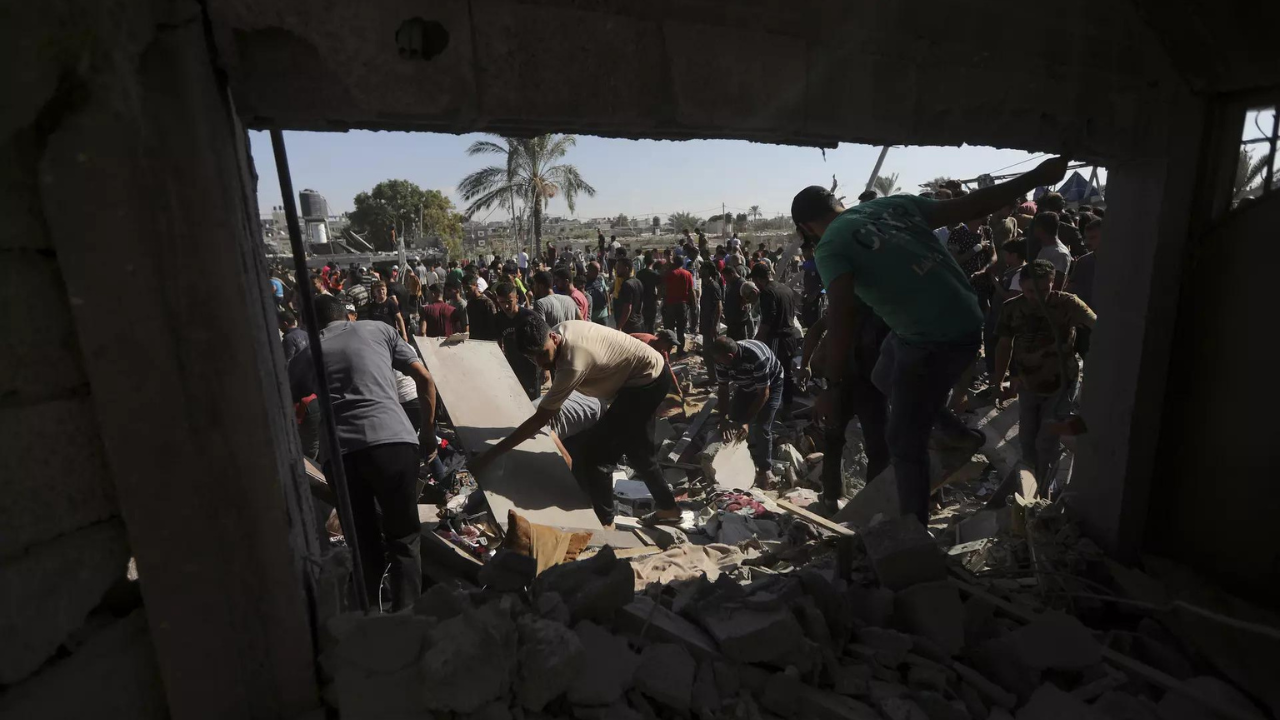 GAZA BORDER: The trucks carrying humanitarian aid to deliver to Gaza only carried food, water, and medical supplies but no fuel, CNN reported.
Thirteen trucks were carrying medicine and medical supplies; five were loaded with food; and two were transporting water, said the Egyptian authorities at the Rafah crossing.
A Palestinian spokesperson for the border crossing on Saturday claimed that the aid loaded on trucks did not contain "enough" supplies for even a single school in Gaza; however, CNN did not verify this claim.
"Despite supplies running dangerously low at hospitals and schools in Gaza, fuel was not delivered," said Head of Communications for the Palestinian side of the Rafah crossing, Wael Abu Mohsen, told Saudi state media Al Hadath TV in an interview on Saturday, as reported by CNN.
Meanwhile, IDF spokesman Rear Admiral Daniel Hagari said in a press conference that food, water, and medical aid will enter the southern part of Gaza through Egypt's Rafah crossing, while fuel is still not allowed to enter Gaza.
"Fuel will not enter Gaza," Hagari said.
Hagari added that the IDF "will continue strikes on Hamas strongholds in northern Gaza."
This dire situation in Gaza was underscored by the UN Office for the Coordination of Humanitarian Affairs in a statement on Thursday, stating that over 60 per cent of primary care facilities are currently closed and Gaza's hospitals are on the brink of collapse. This crisis is primarily due to severe shortages of power, medicine, medical equipment, and specialised personnel, CNN reported.
Conditions in Gaza are worsening by the hour amid fears of a catastrophic humanitarian crisis, and multiple rights groups are warning of the deadly consequences of ongoing shortages in the Gaza Strip and appealing for vital supplies to be allowed through the Rafah crossing.
At least 4,385 Palestinians have been killed in Israeli strikes on Gaza since Hamas's October 7 attack inside Israel, which killed more than 1,400 people.
The ongoing Israeli airstrikes have forced seven hospitals and 21 primary healthcare centres in Gaza to become "out of service." Additionally, 64 medical staff members have lost their lives in the ongoing conflict, CNN quoted a spokesperson for the Palestinian Ministry of Health as saying on Friday.
The Rafah border crossing was opened for a short window on Saturday morning to let 20 aid trucks enter Gaza from Egypt. Though many have welcomed the brief reopening, rights groups have asserted that much more aid is needed.
Among them was World Health Organisation Director-General Tedros Adhanom Ghebreyesus, who warned that "needs are far higher."
In a post on social media on Saturday, he said that in order "to meet the urgent health needs of all people in Gaza," the WHO calls for "safe passage of additional aid convoys across the enclave; protection of all humanitarian workers; and sustained access for health aid."
"In the darkest hours, war casts its shadow, but it is through the pursuit of peace that we ignite the light of hope, healing, and a better tomorrow," his post added.