'Death is better than leaving': Gaza civilians refuse to evacuate 'hellhole' despite Israel claiming Hamas are using them as human shields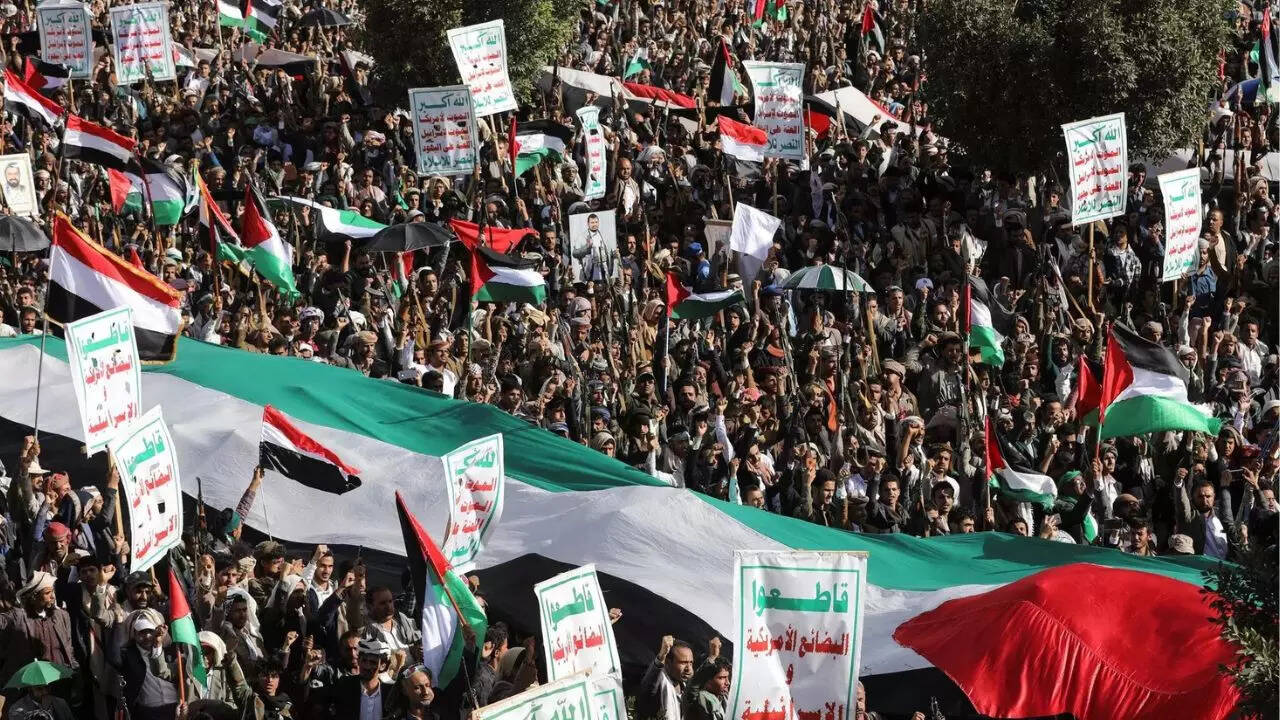 NEW DELHI: Despite being given a 24-hour notice by Israel to evacuate before a full-scale assault, resolute individuals in Gaza who chose not to leave have stated their preference to stay and face potential death rather than abandoning their homes.
Although some individuals did heed the evacuation call, there was minimal evidence of a widespread departure by Friday afternoon, even though the UN had cautioned that the region was rapidly deteriorating into a dire situation, Dailymail reported.
A 20-year-old named Mohammad, standing on the street outside a building reduced to debris from an Israeli airstrike two days ago near the center of Gaza, said, "'Death is better than leaving. I was born here, and I will die here, leaving is a stigma.".
In the Palestinian enclave of Gaza, where power supplies have been cut and essential resources like food and water are becoming scarce due to a week of retaliatory air strikes and a complete Israeli blockade, the UN has declared an untenable situation for Gaza's civilians.
Martin Griffiths, the UN's aid chief, wrote on social media, "The noose around the civilian population in Gaza is tightening. How are 1.1 million people supposed to move across a densely populated warzone in less than 24 hours?".
Hamas has pledged to continue their fight until the very end. In response to Israel's advice for residents to evacuate to evade the ongoing assault, citing concerns that Hamas 'is using you as human shields', Hamas encouraged the people to remain in place.
While a significant number of Palestinians opted to remain, thousands of them still made efforts to travel south.
People used both cars and walked as they attempted to reach the southern region of this densely populated area, which is the residence of 2.4 million people within its 362,140 square miles. However, everyone striving to evade the devastation caused by Israel's bombs faces a fundamental dilemma: "Where to go?"
29-year-old Umm Hossam said, "How long will the strikes and death last? We have no homes left, every area of Gaza is under threat". 'We call on Arab countries to protect us. Where are the Arabs? Enough! Enough!' she cried.
The northern section of the Gaza Strip includes the largest settlement, which is Gaza City. According to the UN, there were indications that Israel was pushing for the entire population to relocate across the wetlands that divide the territory.
The Israeli military accused Hamas of hiding in and under civilian buildings. It warned, "Civilians of Gaza City, evacuate south for your own safety and the safety of your families and distance yourself from Hamas terrorists who are using you as human shields".
Israel argues that the devastating attacks on its civilian population means it must elimination the terrorist group. During the overnight operation, Israel targeted 750 military sites, including Hamas tunnels, military facilities, residences of senior operatives, and weapon storage depots.
Hamas's military wing reported that the recent airstrikes resulted in the deaths of 13 captives they had previously exchanged with Israel. They retaliated by launching 150 rockets at Israel.
The United Nations expressed Israel's request for Gaza's civilians to evacuate cannot happen 'without devastating humanitarian consequences' .Israel condemned the UN's position and argued that the UN should denounce Hamas and endorse Israel's right to self-defense.
Israeli defence minister Yoav Gallant said, "We are fighting for our home. We are fighting for our future. The path will be long, but ultimately I promise you we will win".
Mahmoud Abbas, the President of the Palestinian Authority and a rival of Hamas, conveyed to US Secretary of State Antony Blinken during a meeting in Jordan that the forced displacement of Palestinians in Gaza would amount to a repetition of the events in 1948, when hundreds of thousands of Palestinians were either forced to flee or displaced from Israel. The majority of Gaza's residents are the descendants of these refugees.
Abbas urged for the immediate entry of humanitarian aid into Gaza. However, Israel has declared that it will not lift its blockade until its citizens held hostage by Hamas are released.
During their conversation, Antony Blinken and Israeli Prime Minister Benjamin Netanyahu deliberated on the establishment of safe zones in Gaza 'where civilians could relocate to be safe from Israel's legitimate security operations,', as disclosed by a U.S. State Department representative to the press.
White House national security spokesman, John Kirby, acknowledged that organising such a massive evacuation was a 'tall order'. However, he emphasised that the United States would not question or doubt its ally's decision to instruct civilians to move out of the way. He further said on MSNBC, "We understand what they're trying to do and why they're trying to do this – to try to isolate the civilian population from Hamas, which is their real target".
Despite Israel's call for evacuation, there were minimal indications of people leaving Gaza City. Instead, a group assembled at al-Shifa Hospital, expressing their determination to stay.
In the southern and central regions of the enclave, where people were expected to seek refuge, Palestinians reported overnight airstrikes, with additional strikes in central areas on Friday morning. The Palestinian Red Crescent Society said that there was no safe place throughout the entire Gaza Strip.
According to the United Nations' humanitarian office (OCHA), over 400,000 individuals in Gaza have already been displaced from their homes, and 23 aid workers have lost their lives. 'Mass displacement continues,' OCHA said.
The United Nations Palestinian refugee agency (UNRWA) announced that it had relocated its primary operations center and international personnel to the southern Gaza. UNRWA also appealed to Israel to not target its shelters.
White House national security spokesman John Kirby conveyed that U.S. officials were in collaboration with both Israel and Egypt to facilitate the safe passage of civilians in the area.
'Obviously, we don't want to see any civilians hurt,' Kirby said on CNN. 'These Palestinian people, they're victims, too. They didn't ask for this. They didn't invite Hamas in and say, you know, 'Go hit Israel."
During his visit to Tel Aviv, U.S. Defense Secretary Lloyd Austin mentioned that military assistance was being provided to Israel, emphasizing that this was the time for resolve and not revenge.
On Friday, Antony Blinken held meetings with Jordan's King Abdullah as well as Mahmoud Abbas, the leader of the Palestinian Authority, which has limited self-rule in the West Bank but lost control of Gaza to Hamas in 2007. Blinken will also visit Qatar, Saudi Arabia, Egypt, and the United Arab Emirates.
Iran issued a warning regarding potential responses from its allies, including Hamas and the influential Hezbollah movement in Lebanon. The Israeli military reported attempts by gunmen to infiltrate across the Lebanese border.
Iran's foreign minister held a meeting with the leader of Hezbollah, Hassan Nassrallah, in Lebanon. Following their meeting, Iranian Foreign Minister Hossein Amirabdollahian stated that any ongoing war crimes against Palestine and Gaza would provoke a response from the broader alliance.
Jewish communities in other countries expressed fear of possible attacks. In Paris, law enforcement resorted to tear gas and water cannons to disperse a prohibited demonstration in support of the Palestinians. In Amsterdam and London, some Jewish schools were planning temporary closures due to safety concerns. Police in New York and Los Angeles increased their presence around synagogues and Jewish community centres.