Humanitarian Truce: France's Macron calls for 'humanitarian truce' in Israel-Gaza war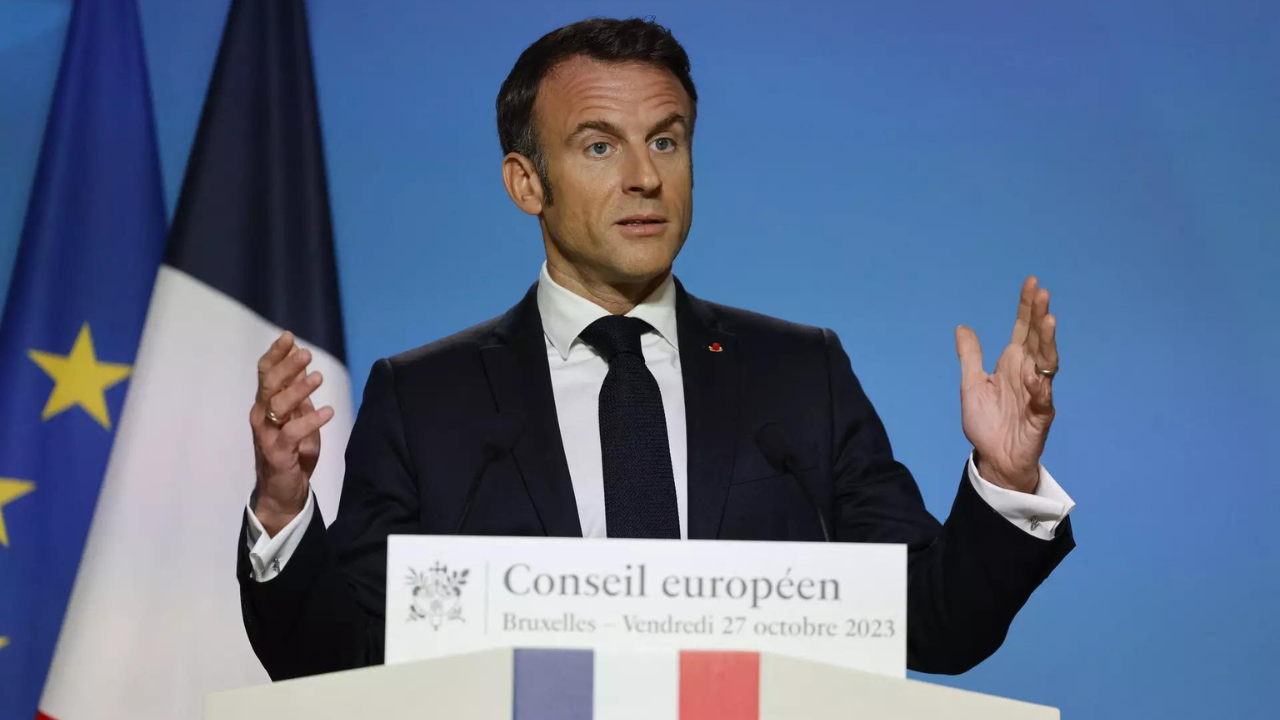 BRUSSELS: French President Emmanuel Macron called Friday for a "humanitarian truce" in the Hamas-Israel conflict to protect civilians in the Gaza Strip, which is under heavy bombardment, and to expedite the release of hostages.
His term, made after an EU summit in Brussels, went beyond what he and other leaders collectively had called for in a final statement, which was "humanitarian corridors and pauses".
That expression was the result of hours of painstaking debate over language that reflected divisions in the European Union over the course the Israel-Hamas conflict is going.
On October 7, Hamas militants stormed across the Gaza Strip's border, killing 1,400 people, mostly civilians, and taking more than 220 hostages in the worst bloodshed in
Israel
's history.
Israel has struck back with a relentless bombing campaign which Gaza's Hamas-run health ministry says has killed 7,326 people, mostly civilians, among them 3,038 children.
Israel has also cut supplies of food, water and power to Gaza and insisted no fuel can be imported as it could be used by Hamas.
All EU countries strongly condemned Hamas's October 7 attack on Israel. But some have objected to the extent of Israel's military response, arguing Palestinian civilians deserve the protection afforded them by international law.
– 'Indiscriminate bombardment' –
Macron, speaking at the end of the two-day summit, said: "A humanitarian truce is useful today to be able to protect those who are on the ground, who have suffered bombings."
He insisted Israel had the right to defend itself from "terrorism". But he also pointed to "the complete blockade, the indiscriminate bombardment and even more the prospect of a massive ground operation" as risks for civilians in Gaza.
Macron said
France
wanted to get its citizens out of Gaza "as soon as possible".
France's diplomatic service said there were around 50 French citizens in Gaza, but Paris wanted to also extend protection to their family members and employees at France's cultural institute, for a total of around 170 people.
There was no EU call for a ceasefire despite the wishes of some member states.
Spain pushed for tougher language in the leaders' conclusions.
But the biggest supporters of Israel, including Germany and Austria, resisted such a move, worrying it would be seen as constraining Israel's margin for action.
German Chancellor Olaf Scholz avoided using terms like truce when he spoke to reporters after the summit.
"We do everything to support Israel's right of self-defence," Scholz said.
But Madrid managed to rally leaders around a plan for an international peace conference that Spanish premier Pedro Sanchez hoped would be held within the next six months.
– EU budget headache –
European Council President Charles Michel, who chairs meetings of member state leaders, defended the EU's call for "pauses" and insisted the bloc had a united and "very firm" position.
"We must be very clear, this means that we consider it extremely urgent, important, essential to allow humanitarian aid to reach its recipients," Michel said.
The EU heads of government also discussed bolstering support for Ukraine, as they strived to focus on helping that country against Russia's invasion even as Middle East turmoil steals global attention.
A key EU measure is a plan, tentatively estimated at 20 billion euros ($21 billion) over four years, for a defence fund for Ukraine as part of broader Western security commitments.
Further financial support for Ukraine is backed by almost all 27 EU countries, with only Hungary and Slovakia baulking.
But that is wrapped up in much bigger negotiations over the bloc's next longterm budget, which is shaping up to be a major issue of contention for the next summit scheduled for December.
Slovakian Prime Minister Robert Fico said he would be ready to give Ukraine more funding if they met certain conditions including being more "transparent", but stressed that his country would not stop humanitarian aid.