'Hundreds killed' in Israeli hit on Gaza hospital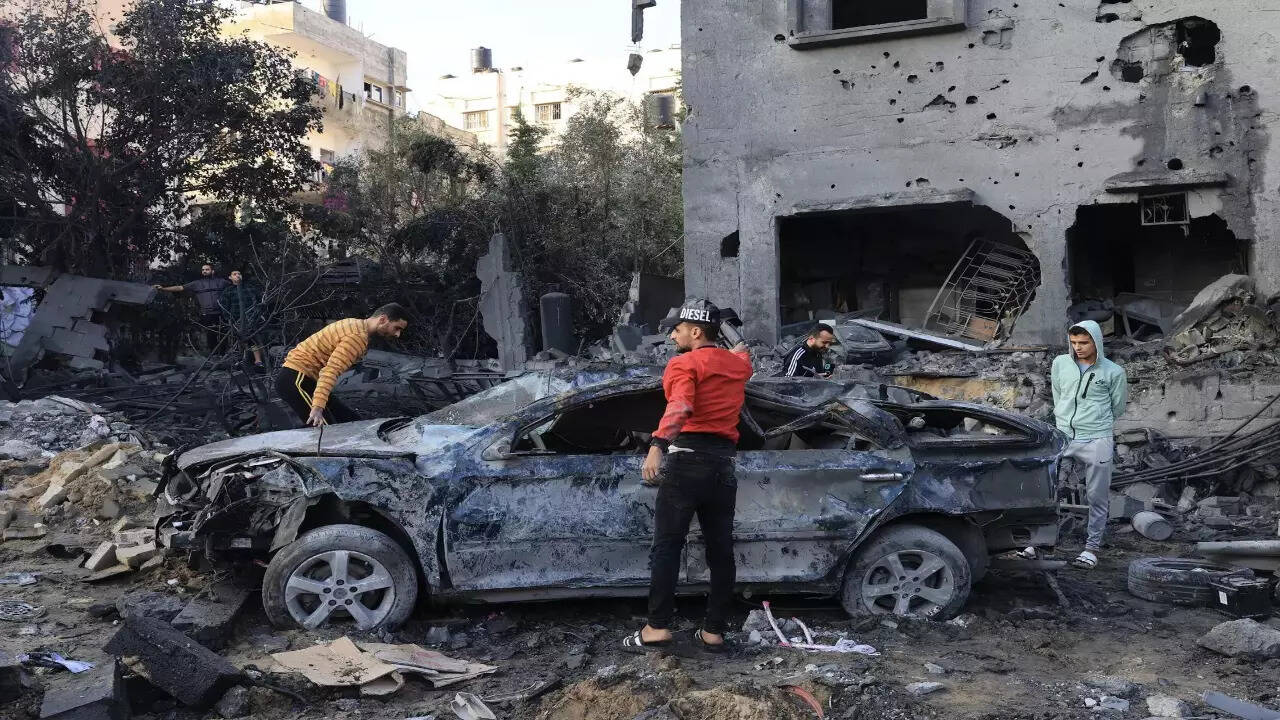 Palestinian authorities said an Israeli air strike on Tuesday hit a Gaza City hospital packed with wounded and other Palestinians seeking shelter, killing hundreds. A Gaza civil defence chief said on Al-Jazeera TV that over 300 peoplewere killed at Al-Ahli al-ArabiHospital. A Gaza health ministry official said at least 500 people were killed and injured. Both departments are under the Hamas-run government.
The deadly hospital strike came as President Biden was preparing for a visit to
Israel
on Wednesday as conditions in besieged Gaza grew ever more desperate. Several hospitals in Gaza City have become refuges for hundreds of people, hoping they would be spared bombardment after Israel ordered all residents of the city and surrounding areas to evacuate to the southern Gaza Strip.
Hamas, which sparked the latest war with an attack last week that killed more than 1,400 Israelis, called Tuesday's hospital strike "a horrific massacre." It said in a statement that most of the casualties were displaced families, patients, children and women. Israel said it was investigating the report. Israeli military spokesman Rear Adm. Daniel Hagari said there were still no details on the hospital deaths: "We will get the details and update the public. I don't know to say whether it was an Israeli air strike."
Earlier on Tuesday, the United Nations Palestinian refugee agency said an Israeli air strike had killed at least six people after striking one of its schools that has been functioning as a shelter for displaced people. In the south, Israeli airstrikes killed dozens of civilians. Gaza's interior ministry said at least 72 people were killed and dozens more were wounded in attacks on residential buildings in the cities of Khan Younis and Rafah. Health authorities in Gaza say at least 3,000 people have been killed in Israel's intense 11-day bombardment since Hamas militants rampaged into Israeli towns. The Israeli military said it was targeting Hamas hideouts, infrastructure and command centres.
Meanwhile, US officials worked to convince Israel to allow delivery of supplies to desperate civilians, aid groups and hospitals after days of failed hopes for an opening in the siege. With Israel barring entry of water, fuel and food into Gaza, US secretary of state Antony Blinken secured an agreement with Israeli PM Benjamin Netanyahu to discuss creation of a mechanism for delivering aid to the territory's 2.3 million people. Still, as of late Tuesday, there was no deal in place. A top Israeli official said his country was demanding guarantees that Hamas militants would not seize any aid deliveries. Tzahi Hanegbi, head of Israel's national security council, suggested entry of aid also depended on the return of hostages held by Hamas.