Israel deploys hundreds of tanks, soldiers on Gaza border as 'ground offensive' looms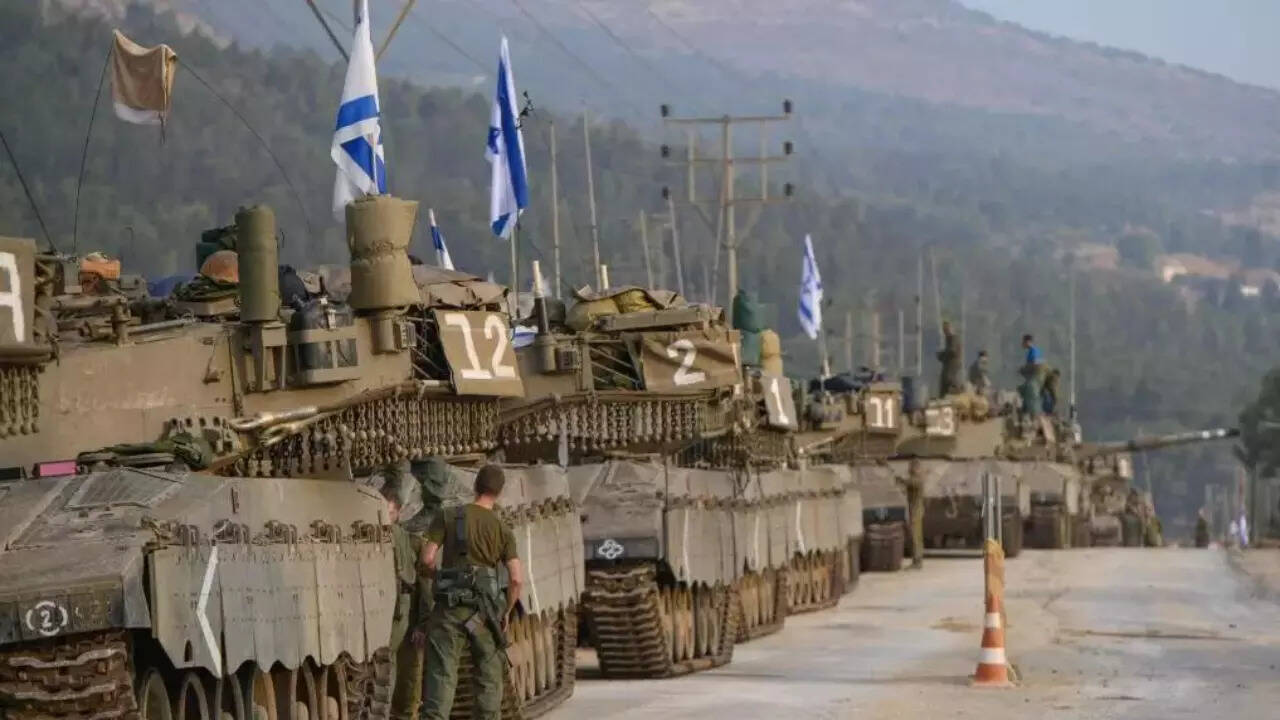 TEL AVIV: As a "ground offensive" of the besieged Gaza Strip loomed, hundreds of Israeli tanks were deployed near the border in south Israel on Thursday, waiting for the all-clear from the country's political establishment and the military top brass.
Israeli tanks and troops mounted on armoured vehicles were deployed in the region, seeming to suggest that a ground assault on Hamas in their backyard, Gaza, could begin any time soon.
Meanwhile, the Israel Defence Forces (IDF) said four rockets of nine launched from Lebanese territory were intercepted, adding that several anti-tank missiles were fired from Lebanon towards Israeli forces.
The IDF added that in response to the attacks, Israeli forces targeted the site in Lebanon from where rockets were fired into Israel and also struck at Hezbollah terrorist infrastructure using tank fire.
The Israeli forces also claimed to have thwarted and dismantled a terrorist cell using a UAV (unmanned aerial vehicle) of the IDF.
As Israel gears up for an all-out ground offensive in the Gaza Strip, one of the biggest challenges they face is Hamas' extensive underground tunnel network in the area. Several experts have warned that in the event of a ground offensive, Israel will lose the clear advantage it has over Hamas in terms of firepower, as it will have to fight the enemy on its terrain.
The densely populated area with a network of tunnels is likely to pose a security challenge for the IDF as it prepares for a ground assault.
An Israel Defence Forces spokesperson on Wednesday said they were striking parts of the tunnel network, but it won't be an easy battle.
Earlier, during a joint press briefing with US President Joe Biden, Netanyahu said the crimes that the Hamas terrorists perpetrated on civilians in Israel included rape, burning, kidnapping, and targeting small children, adding that the death toll from the Hamas terror attacks stood at 1,400 and was likely to mount.
"October 7 is another day that will live in infamy," said Netanyahu.
He reiterated President Biden's statement that "Hamas is worse than ISIS."
He added, "On Oct 7 Hamas murdered 1400 Israelis in a single day….October 7th, is another day that will live in infamy. Mr President, you rightly said that Hamas is worse than ISIS. The civilised world must unite to defeat Hamas."
Additionally, The United States deployed two carrier strike groups, each consisting of an aircraft carrier, its planes, and several escort warships, which appeared to have deterred Hezbollah from attacking Israel in a major war, The New York Times reported.
According to the NYT report, quoting American officials, the US and Israeli Intelligence agencies are working to determine whether Israel's expected ground offensive against Hamas in the Gaza Strip could prompt Hezbollah to launch a large-scale military campaign against Israel from Lebanon.
The US-based daily reported that the officials have assessed that Hezbollah leader Hassan Nasrallah does not want an all-out war with Israel, for fear of the damage it would do to his group and Lebanon. U.S. officials said that assessment could change as more intelligence is gathered and events unfold.
Prime Minister Netanyahu has vetoed proposals from his government of a pre-emptive strike against Hezbollah, according to American officials and others briefed on the discussions.
Earlier, the US Defence Department reiterated its full support to Israel in the ongoing war on Hamas, saying that the US Secretary of Defence was in continuous touch with the Israeli authorities and leaders.
The US Department of Defence (DOD) said in a statement, "Since meeting with Israeli Prime Minister Benjamin Netanyahu, Defense Minister Yoav Gallant and members of the Israeli War Cabinet in Tel Aviv on Friday, Austin has remained fully engaged with the country's leaders as the US works ensure Israel has what it needs to defend itself from further attacks."
Pentagon Deputy Press Secretary Sabrina Singh said in a statement, "Since leaving Israel, he has held calls with MOD Gallant … on a near daily basis and will likely have another call today", adding, "We are working to meet Israel's needs, which include air defence, precision-guided munitions, artillery and medical supplies."
In addition to quickly sending military aid to Israel, the US has bolstered its presence in the region to deter further aggression.
Over the weekend, US Defence Secretary Austin directed the USS Dwight D. Eisenhower Carrier Strike Group to join the USS Gerald R. Ford Carrier Strike Group, which arrived in the Eastern Mediterranean last week.
The Navy units are part of a broader bolstering of US forces in the region. Last week, the Air Force announced the deployment of F-15 and F-16 fighter squadrons and A-10 attack squadrons to the region, according to a US Department of Defence press release.