Israel: Lebanon PM says working to avoid 'war' with Israel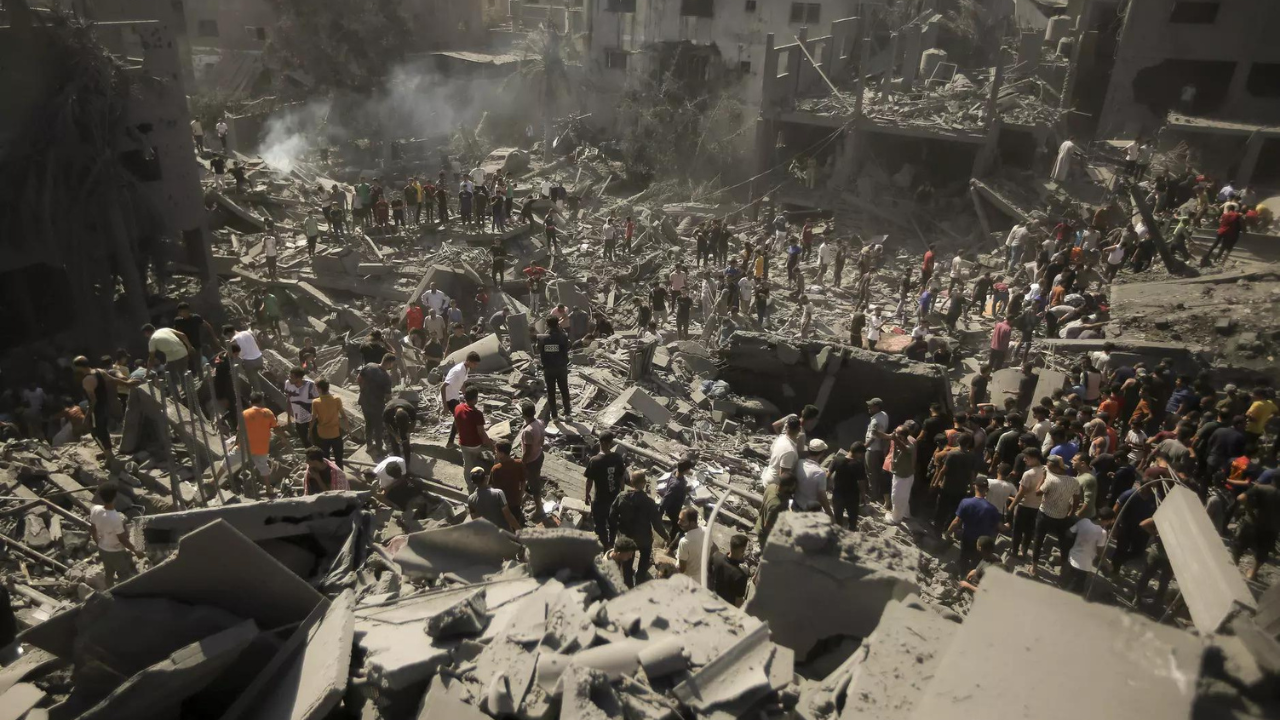 BEIRUT: Lebanon's caretaker prime minister said Monday he was working to ensure his country does not enter the Hamas-Israel
war
, even as Hezbollah and
Israel
have been exchanging cross-border fire.
Najib Mikati said he feared an escalation, with the border skirmishes stoking concerns that Lebanon's powerful Iran-backed Hezbollah movement, a Hamas ally, could open a new front with Israel.
"I am doing my duty to prevent Lebanon from entering the war" raging further south, Mikati told AFP in an interview.
Cash-strapped Lebanon is facing the possibility of war essentially leaderless, as political divisions have left the country without a president for a year, while Mikati has headed a caretaker cabinet for about a year and a half.
"Lebanon is in the eye of the storm," he added.
Mikati, who is on good terms with Hezbollah, said he has no "clear answer" about whether war loomed ahead, adding that "it depends on regional developments".
In 2006, Israel and Hezbollah fought a bloody conflict that left more than 1,200 people dead in Lebanon, mostly civilians, and 160 in Israel, mostly soldiers.
"For now Hezbollah has managed the situation rationally and wisely, and the rules of the game have remained constrained to certain limits," Mikati said.
"But at the same time I feel like I cannot reassure Lebanese" because the situation is still developing, he added.
Chaos
Hezbollah, which has a more powerful arsenal than Lebanon's own army, has so far restricted itself to targeting Israel's northern border region, with Israel striking back.
The Shiite Muslim movement's leader Hassan Nasrallah is set to make a televised speech on Friday, Hezbollah has said, his first such address since Hamas's October 7 assault on Israel.
Skirmishes on the Lebanon-Israel border have killed at least 62 people in Lebanon, according to an AFP tally, mostly Hezbollah combatants but also four civilians including Reuters journalist Issam Abdallah.
Israeli officials have reported four deaths, including one civilian.
Mikati said any escalation could extend beyond Lebanon.
"I cannot rule out an escalation because there is a race to reach a ceasefire before escalation spreads in the entire region," Mikati said.
"I fear that… chaos could engulf the entire Middle East," he also said.
Hezbollah and allied Palestinian factions in Lebanon have exchanged fire with Israel almost daily over the past three weeks.
Iran-backed or affiliated groups have also launched attacks on Israel from Syria, and targeted US forces stationed in Iraq and Syria.
Lebanon witnessed a flurry of diplomatic activity at the start of the escalation, with high officials visiting the country and Mikati going on an official trip Sunday to Qatar — which is mediating peace efforts in the Hamas-Israel war.
Qatar was playing "an important mediation role," Mikati told AFP.
"Mediation almost succeeded last Friday, but was disrupted when the Israelis began ground operations in Gaza," he said.
Lebanese tired of wars
On October 7, Hamas gunmen poured across Gaza's border with southern Israel and killed more than 1,400 people, mostly civilians, according to Israeli officials.
Israel has responded with unrelenting bombing of Gaza, which the Hamas-run health ministry says has killed more than 8,300 people, also mainly civilians.
Mikati, who heads a caretaker cabinet with limited powers, urged Lebanese lawmakers to "elect a president as soon as possible".
Divided members of parliament have failed 12 times to elect a president during the past year.
Lebanese were weary of conflict, Mikati said, in a country that was battered by a 1975-1990 civil war, 22 years of Israeli occupation and the 2006 war with Israel.
Despite relative calm in recent years, in late 2019 the country plunged into an unprecedented economic crisis, pushing most of the population into poverty.
"Lebanese have had enough of wars," Mikati said.
"Lebanese… do not want to enter any war and want stability."