Israel PM rejects Gaza ceasefire as 'surrender to Hamas'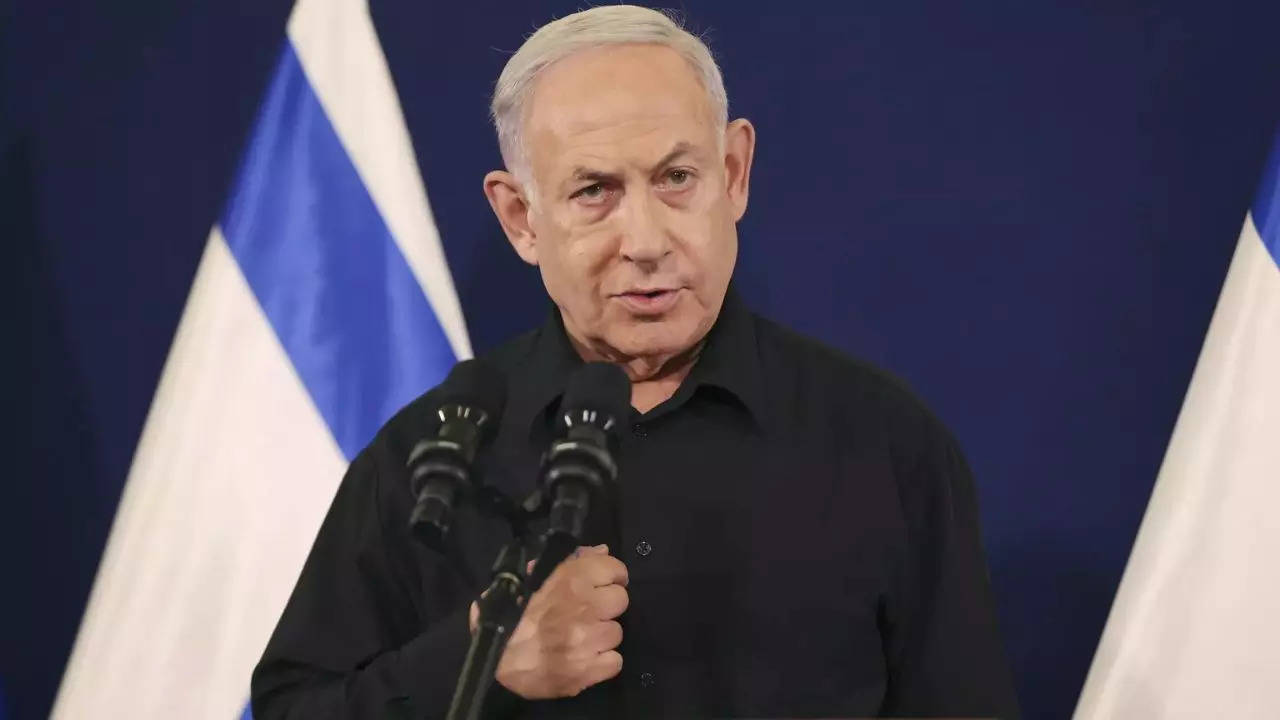 JERUSALEM: Prime Minister Benjamin Netanyahu said Monday a ceasefire in
Israel
's war against Hamas "will not happen", as the UN warned not enough aid was coming in to meet "unprecedented humanitarian needs".
Israeli ground forces fought inside the Gaza Strip and air strikes pounded the besieged Hamas-run Palestinian territory in response to the October 7 attacks — the deadliest in Israel's history.
The intensifying military operations have sharply heightened fears for the 2.4 million inhabitants of Gaza, where the Hamas-controlled health ministry says more than 8,300 have been killed.
In a briefing to foreign press, Netanyahu said a ceasefire would amount to surrendering to Hamas, whose gunmen killed 1,400 people and took more than 230 hostages, according to the latest Israeli figures.
"Calls for a ceasefire are calls for Israel to surrender to Hamas, to surrender to terrorism… this will not happen," he said, vowing Israel would "fight until this battle is won".
Israel ally the United States also objected to a ceasefire.
"We do not believe that a ceasefire is the right answer right now," National Security Council spokesman John Kirby said, adding that "pauses" to get aid into Gaza should be considered instead.
As Israeli forces battled Hamas militants inside the narrow Palestinian territory and sent tanks to the outskirts of Gaza City, concern has surged about the widening humanitarian crisis.
Kirby said Washington was "confident" of increasing the number of aid trucks to Gaza through the Rafah crossing with Egypt to around 100 a day.
Limited aid has entered Gaza from Egypt under a US-brokered deal, but its volume has fallen far short of the hundreds of trucks a day aid agencies say are needed.
Philippe Lazzarini, head of the UN agency for Palestinian refugees UNRWA, called for the Security Council to demand an immediate humanitarian ceasefire.
"The system in place to allow aid into Gaza is geared to fail unless there is political will to make the flow of supplies meaningful, matching the unprecedented humanitarian needs," he said.
The Israeli Prime Minister's office said late Monday that food and medicines entering Gaza are "controlled and inspected by Israeli security personnel" and "delivered via Egypt".
"The convoys are intended for the civilian population, and if it turns out that they are being seized by Hamas, they will be stopped," Netanyahu's office said.
Israeli tanks on Gaza highway
The Hamas attack set off the bloodiest-ever Gaza war, marked by weeks of withering aerial bombardment and three continuous nights of ground operations centred on northern Gaza, which Israel has told civilians to evacuate.
Columns of Israeli tanks and armoured bulldozers were seen churning through the sand, and snipers took positions inside emptied residential buildings, in footage released by the army.
Dozens of tanks advanced for more than an hour into the southern fringes of Gaza City and blocked the main north-south highway, "firing at any vehicle that tries to go along it", an eyewitness told AFP by phone.
Air strikes also cratered the road and brought down buildings, residents said, before the tanks withdrew.
The Israeli ground forces were supported by heavy fire from the air and artillery, with the army striking more than 600 targets within 24 hours, up from 450 reported by the military a day earlier.
Hamas said it had fired anti-tank missiles at two Israeli armoured vehicles and that "blows delivered by the resistance have prevented" Israeli troops from establishing a presence in Gaza.
The Israeli military also said a woman soldier was rescued from captivity after an operation in the Hamas-run territory.
The release of Ori Megidish was "secured during a ground operation," the army said, adding she had been "medically checked" and was "doing well".
Netanyahu said the international community must demand the captives remaining in Gaza "be freed immediately, unconditionally".
Hamas released a video of what it said were three women hostages, seated against a tile wall, although the time and place of the recording could not be verified.
One called in an agitated tone for Netanyahu to agree to Hamas' proposed exchange of the hostages for Palestinian prisoners held by Israel.
Netanyahu in a statement decried the clip as "cruel psychological propaganda".
'Bombing followed us'
The more than 230 hostages — aged between a few months and above 80 — are believed to be held in a network of underground tunnels where Hamas has hid its military infrastructure from Israeli surveillance and air attacks.
Israel confirmed the death of one of those missing — German-Israeli Shani Louk, 23, who was captured by Hamas when its gunmen stormed a desert music festival.
Fear and desperation have spiralled in Gaza, under weeks of siege that have cut off water, food, fuel and other essentials.
Internet access was severed on Friday but restored Sunday following US pressure, State Department spokesman Matthew Miller said.
"We made clear to the government of Israel over the weekend that communications networks needed to be restored," he said on Monday.
"It is about ensuring that vital information flows, humanitarian coordination continues, and families can stay in touch."
The United Nations reported Sunday that "thousands of people" had ransacked aid warehouses in Gaza.
Donkey carts were lining up to load water, as safe drinking water has become scarce, in Khan Yunis in southern Gaza.
According to the UN, all 10 hospitals in northern Gaza have received evacuation orders — despite sheltering thousands of patients and about 117,000 displaced people.
"We were displaced from our homes to the hospital," Gaza City resident Ashraf al-Muzani, 38, said from Al-Quds hospital where he and his family have sheltered for a week.
"The bombing followed us," he said. "We haven't been able to sleep and our children are so frightened."
'Highest' UN death toll
UNRWA's Lazzarini said that 64 of his colleagues had been killed in Gaza since October 7, "the highest number of UN aid workers killed in a conflict in such a short time."
Anti-Israel anger has flared across the region and beyond.
In Russia's Muslim-majority Dagestan, police said they had arrested 60 people after a crowd stormed an airport on Sunday to attack passengers arriving from Tel Aviv.
And Russian President Vladimir Putin on Monday accused the United States of responsibility for what he called "deadly chaos" unfolding in the Middle East.
Washington has warned Israel's enemies — in particular Iran-allied groups — not to become more fully involved after a series of attacks across the region.
Israel's military has struck targets in Syria and traded cross-border fire with Hezbollah in Lebanon, where caretaker prime minister Najib Mikati told AFP he was "doing my duty to prevent Lebanon from entering the war".
Violence has also surged in the occupied West Bank, where health officials say about 120 Palestinians have been killed by Israeli fire and in settler attacks since the Gaza war started.