Nikki Haley criticises Trump's praise for dictators and terrorist groups in GOP address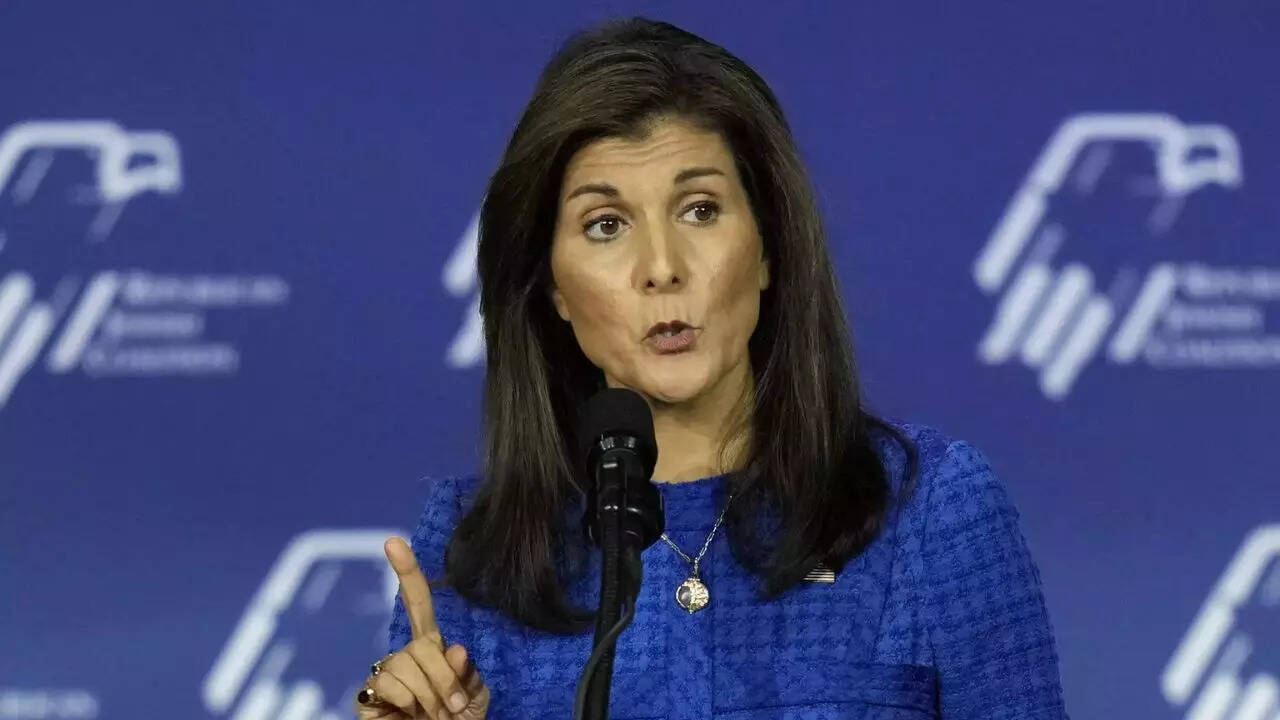 NEW DELHI: In a speech at the Republican Jewish Coalition annual summit, former US Ambassador to the United Nations Nikki Haley, a GOP presidential hopeful for 2024, criticised former President Donald Trump for his past praise of dictators and terrorist organisations, as reported by the New York Post.
Haley rebuked Trump for his recent comments regarding Israeli Prime Minister Benjamin Netanyahu's handling of the October 7 massacre.Trump had suggested that Netanyahu was "not prepared" for the incident, and Haley argued that this criticism seemed to stem from Trump's belief that Netanyahu had been disloyal by congratulating President Biden on his 2020 election victory.
Furthermore, Haley highlighted Trump's past praise of the Iranian-backed Lebanese group Hezbollah, which is designated as a terrorist organisation by the US. Trump had referred to Hezbollah as "very smart," though his campaign later clarified that "smart does not equal good."
"As president, I will not compliment Hezbollah. Nor will I criticise Israel's prime minister in the middle of tragedy and war," Haley vowed in her speech. She also expressed her disapproval of Trump's previous friendliness toward Chinese Communist President Xi and North Korea's Kim Jong Un, saying, "These are not good or smart people. They want us to stay divided, distracted, and morally confused."
While acknowledging Trump's accomplishments regarding Israel, such as the Abraham Accords, Haley questioned what Trump would do in the future. She highlighted the critical importance of the present moment, calling it "the most dangerous period in our lifetimes."
Haley, who has been gaining momentum in recent GOP polling, firmly said, "Given those stakes, we cannot have four years of chaos, vendettas, and drama," in a clear reference to her former boss, Trump.
Haley also showed her unwavering support for Israel in its fight against Hamas. She insisted that the US should provide Israel with everything it needs to eradicate Hamas once and for all, as at least 33 Americans have been killed in Israel.
Meanwhile, during Trump's address at the same Republican Jewish Coalition summit, he issued a stern warning to terrorist groups, stating, "When I am back in the White House, our enemies will once again realize that 'if you spill a drop of American blood, we will spill a gallon of yours.'"
As the 2024 GOP presidential race continues to unfold, Trump remains the frontrunner with 59.1% support nationally, while Nikki Haley currently holds a distant third place with 8.3% support, according to the latest RealClearPolitics polling aggregate.
The next significant event on the GOP presidential campaign calendar is Nevada's caucus, scheduled to take place on February 8, 2024.