Pakistan court rejects Imran Khan's pleas for bail, cancellation of FIR in cipher case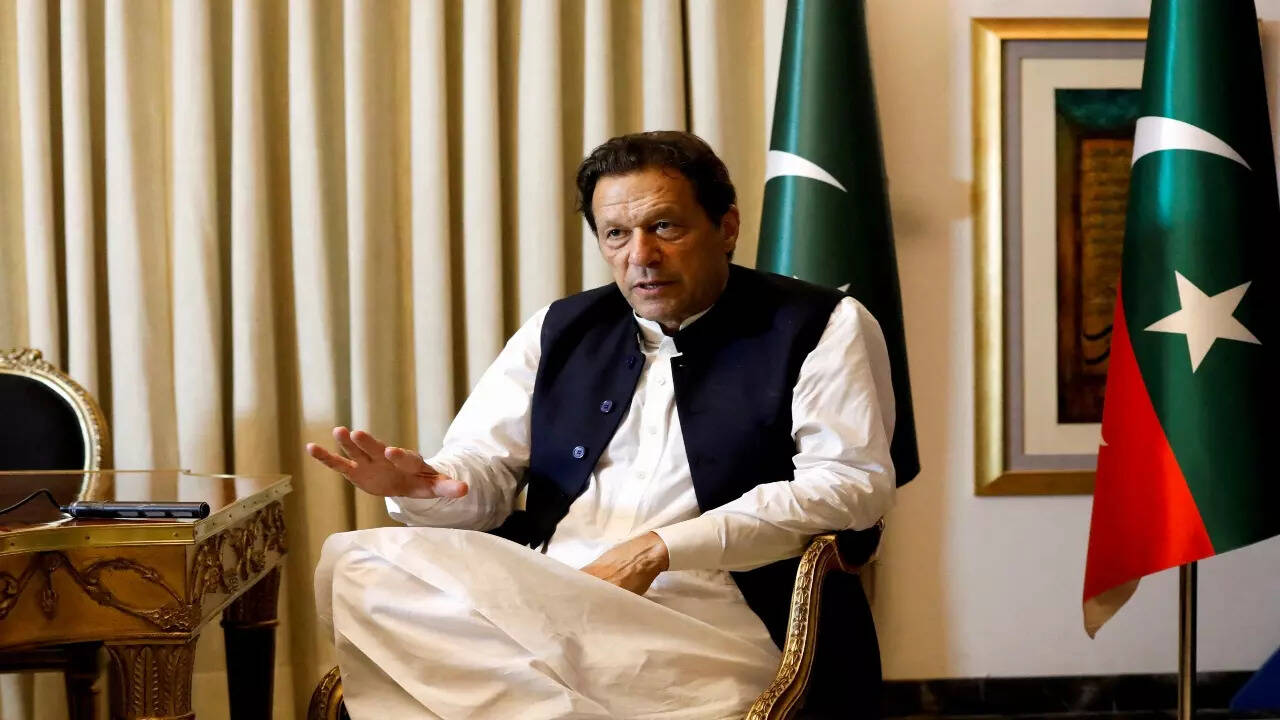 ISLAMABAD: A Pakistani court on Friday rejected petitions by jailed former prime minister Imran Khan seeking bail and cancellation of the first FIR in the cipher case for allegedly leaking state secrets and violating the laws of the country.
Khan, 71, was arrested in August after a case was filed against him for disclosing a secret diplomatic cable (cipher) sent by the country's embassy in Washington in March last year.A special court in Pakistan on Monday indicted him along with his close ally ex-foreign minister Shah Mahmood Qureshi in the case.
Khan, the chairman of the Pakistan Tehreek-e-Insaf (PTI) party, had approached the Islamabad high court (IHC) with the pleas for bail in the case as well as against the FIR which was registered by the Federal Investigation Agency (FIA) in August.
IHC chief justice Aamer Farooq after the conclusion of the hearing had reserved judgment on October 16 which he announced on Friday.
The case is about a document sent by Pakistan's embassy in Washington in March 2022 that Khan tried to use for political purposes by saying that it was proof of a foreign conspiracy to orchestrate his ouster from power in April last year.
Khan, who served as prime minister of Pakistan from August 2018 to April 2022, is accused of "misuse the contents of the cipher" to build a narrative that his government was ousted due to a foreign conspiracy hatched by the US, a charge denied by Washington.
Khan and Qureshi have pleaded not guilty to the charges.
The Federal Investigation Agency (FIA) on September 30 presented the charge sheet against Khan and Qureshi who signed its copies.
On Thursday, the Islamabad high court rejected Khan's petition challenging his indictment in the case.
The court was earlier set to indict Khan on October 17, but it delayed it after Khan's lawyers objected that he was not provided with the copies of the chargesheet. The cipher reportedly went missing from Khan's possession. Khan had repeatedly said before and after the no-confidence motion against him last year that the cipher pointed to a conspiracy to remove him from the prime minister's office.
Khan was ousted through a vote of no-confidence in April 2022. He was incarcerated on August 5 this year, after an Islamabad court sentenced him to three years in prison in the Toshakhana case. The PTI chief was lodged in the Attock District Jail to serve his prison term.
Later, his sentence was suspended by the Islamabad High Court, but then he was arrested in the cipher case and remained in the Attock jail on judicial remand. He was later shifted to Adiala jail.
More than 150 cases have been registered against Khan since his ouster from power in April last year.