Quality Of Life: Israeli street artists' viral campaign sheds light on Hamas hostages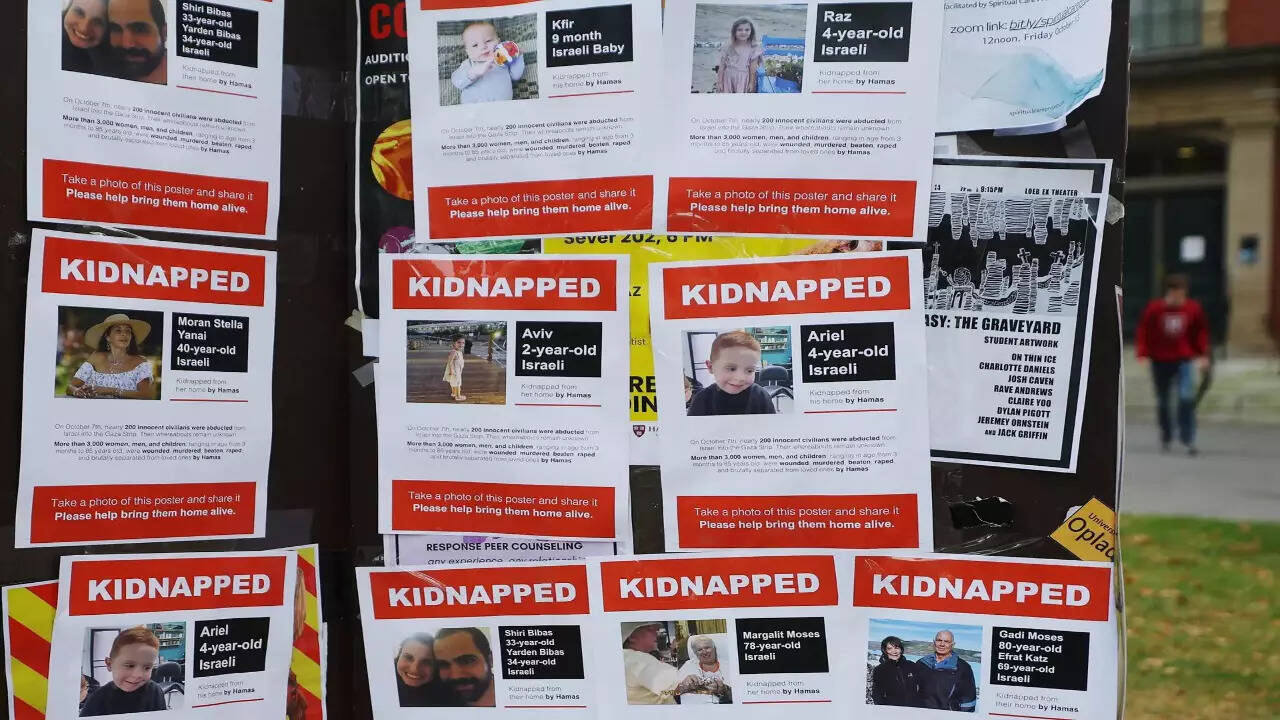 NEW DELHI: Two Israeli artists visiting New York have taken the initiative to raise awareness for the more than 200 hostages taken by Hamas. Nitzan Mintz, 32, and the artist known as Dede Bandaid, 36, employed their street art expertise in a unique way after they received news of the recent Hamas attacks on
Israel
.
According to USA Today, too far from the conflict to provide direct assistance, the couple designed red-and-black flyers with the word "kidnapped" prominently displayed above the photos and names of those abducted, spanning from children to the elderly.These eye-catching posters were intended to grab the public's attention and serve as a visual reminder of the ongoing crisis.
The "Kidnapped from Israel" flyers have become emblematic symbols of the Hamas hostages. They have been plastered on walls, subways, and telephone poles not only in the US but also in various international cities.
Translated into 30 languages, these posters have garnered attention from some notable celebrities, USA Today reported.
The posters feature individuals of all ages, from a mother and her two daughters to a 9-month-old Israeli-Argentinian baby and a 40-year-old music festival-goer. Their striking images and personal stories serve as poignant reminders of the crisis.
However, the widespread visibility of these flyers has occasionally shed light on the public's differing views concerning the Israeli-Palestinian conflict and its intricate history. The creators of the campaign, particularly Dede Bandaid, have witnessed many instances of their posters being torn down in New York, South Florida, London, and Melbourne, Australia.
The posters serve as a form of guerrilla public street art, inspired by missing-persons posters commonly seen in the United States. The concept was born from brainstorming sessions in response to the attacks, USA today reported.
According to USA Today, due to overwhelming demand for the flyers, the creators launched a dedicated webpage for easy access to downloadable versions. This campaign swiftly gained momentum, with people around the world taking up the cause, using tape and staple guns to spread the flyers in various cities, from San Francisco to New York, Europe, and South America. The posters have made appearances at pro-Israel demonstrations and on college campuses.
Approximately two weeks into the campaign, the website now receives around 25,000 daily visitors. It has expanded to include video clips of kidnapped Israelis and testimonials from family members of the hostages. The posters have even been featured on billboards and digital TV trucks in cities like London and Berlin.
Videos of individuals removing the flyers, particularly at New York University, have generated controversy and debates. In some cases, those caught tearing down the posters have faced consequences, such as a woman in Boston who was reportedly fired for her actions. A Miami dentist, Ahmed Elkoussa, faced criticism for removing posters and cited concerns about incitement.