Republicans drop Jim Jordan as Speaker nominee after failed 3rd vote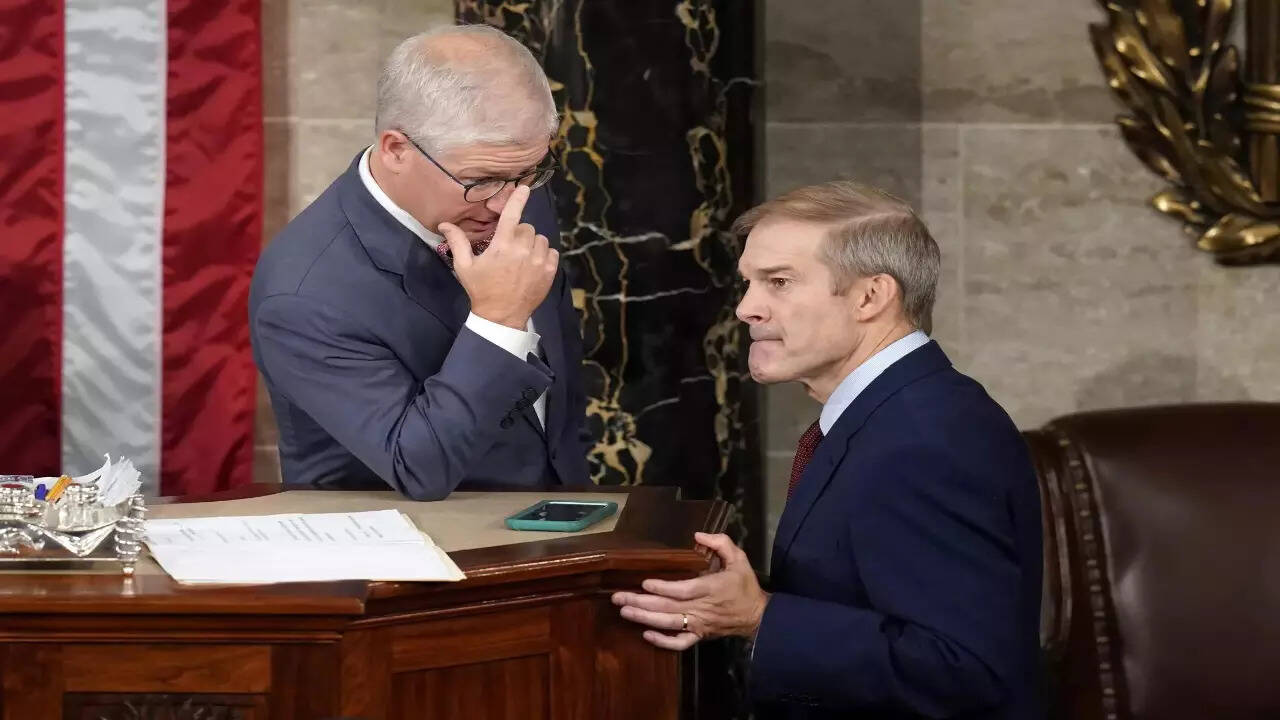 NEW DELHI: In a surprising turn of events, Representative Jim Jordan of Ohio lost an internal vote on Friday to continue as the nominee for speaker within his party. This development has thrown the House into further uncertainty and has prompted Republicans to search for a new leader.
According to a report from the New York Times, the vote took place shortly after Rep. Jordan's third unsuccessful attempt to secure the position of House speaker. With no consensus within the party on a path forward, the House finds itself immobilized despite mounting pressure to address pressing matters.
Jordan had kicked off the day with a call for House Republicans to "step up" and elect him by the end of the day to break the gridlock.
Mr. Jordan persisted with the vote even though it was evident he would not secure the position. The outcome revealed that he had actually lost ground, as 25 Republicans opposed him, compared to the 22 who voted against him in his previous attempt on Wednesday. He fell well short of the 215 votes required to win, receiving only 194, New York Times reported.
Notably, three Republicans from swing districts won by President Biden—Representatives Marc Molinaro of New York, Brian Fitzpatrick of Pennsylvania, and Thomas H. Kean Jr. of New Jersey—reversed their support for Mr. Jordan after backing him earlier.
According to the report, former Speaker Kevin McCarthy, who was ousted by republican rebels just 18 days ago, acknowledged, "Unfortunately, Jim is no longer going to be the nominee." He stressed the need to return to the drawing board to identify a new candidate.
The ongoing discord within the Republican party has become more significant as President Biden called on Congress to consider a $105 billion package providing security assistance to Ukraine and Israel during ongoing conflicts, allocating more funds to Taiwan, and addressing migration issues along the Mexican border.
The House has been in a state of chaos for the past 18 days since Speaker Kevin McCarthy was ousted. Representative Steve Scalise of Louisiana, the initial nominee to succeed him, failed to garner enough support. Subsequently, Mr. Jordan received his party's nomination but was unable to secure the position in House votes.
In a brief news conference at the Capitol before the vote, Mr. Jordan, a co-founder of the ultraconservative House Freedom Caucus, emphasized the urgency of electing a new leader so that the House could resume its legislative activities, including providing assistance to Israel in response to attacks by Hamas, The New York Times reported.
It's important to note that many of those opposed to Mr. Jordan are frustrated with how some of his allies treated Mr. McCarthy and Mr. Scalise. Backers of Mr. Jordan failed to unite around Mr. Scalise despite his majority support in a conference vote. Moreover, a plan to temporarily grant Mr. McHenry explicit power to conduct legislative business was rejected by Republicans on Thursday, with Mr. Jordan himself initially supporting the plan before reversing his position due to opposition from rank-and-file Republicans.