US President Biden to address nation on Israel, Ukraine as crises mount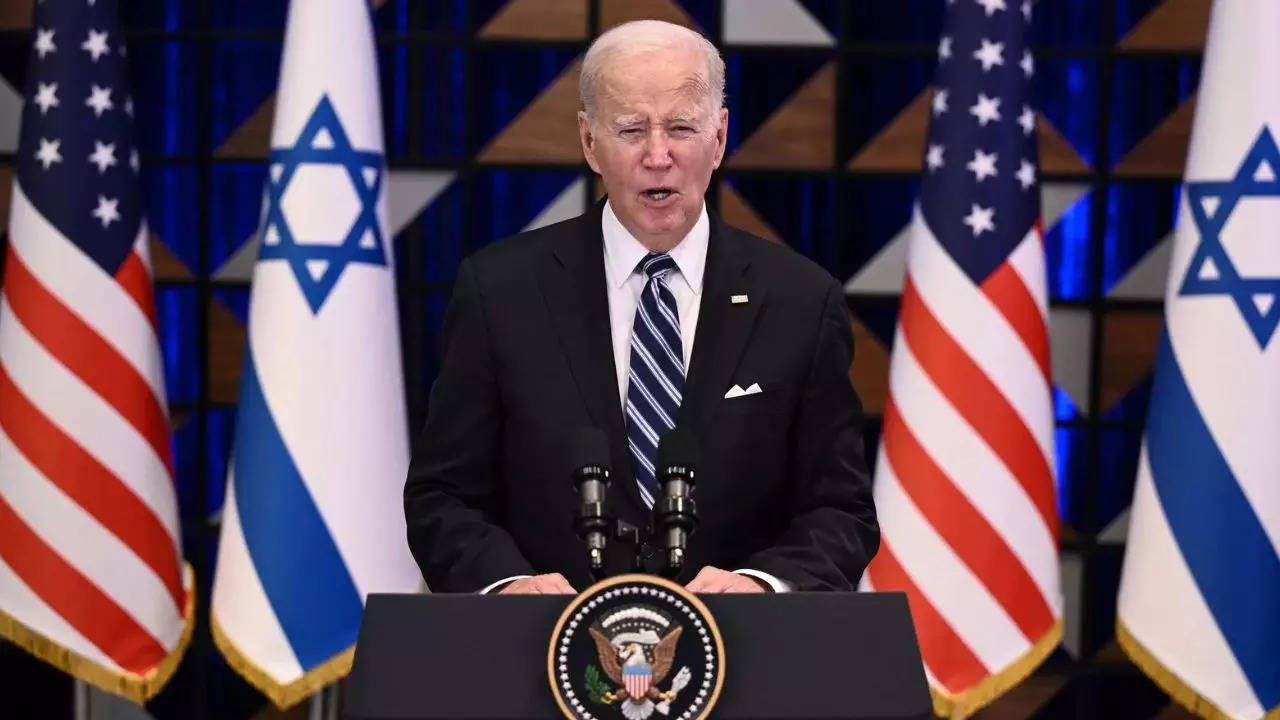 WASHINGTON: US President Joe Biden will give a rare Oval Office speech Thursday to try to get Americans behind the defense of Israel and Ukraine as the crises facing Washington's allies pile up. The 80-year-old, who is seeking a second term in 2024, will address the nation less than 24 hours after returning from a high-stakes solidarity trip to Israel after the deadly October 7 Hamas attack.
The Democrat's primetime speech comes as he prepares to ask Congress, which is paralyzed by splits among rival Republicans, for a joint $100 billion package that includes money for Ukraine and Israel.
White House Press Secretary Karine Jean-Pierre said Biden's speech would "discuss our response to Hamas' terrorist attacks against Israel and Russia's ongoing brutal war against Ukraine."
It will be only Biden's second-ever speech from behind the historic Resolute Desk, which presidents have reserved for moments of critical national importance.
The first was in June of this year when he hailed a deal to avert a "catastrophic" US default after a bitter standoff between Democrats and Republicans.
While Biden's speech on Thursday will undoubtedly have a domestic edge as he seeks to boost his sagging approval ratings, its Oval Office setting reflects the gravity of the global crises he faces.
Washington's rivals are looking on, with Russia's Vladimir Putin saying after talks in Beijing with China's Xi Jinping on Wednesday that world conflicts "strengthen" their countries' ties. The US president trod a tightrope on his wartime visit to Israel, with key Arab allies Jordan and Egypt calling off a meeting in Amman with him over a deadly strike on a Gaza hospital.
Hamas says Israel was to blame for the strike, which sparked fury across the Muslim world, while Biden says US intelligence backs Israel's claim that it was a rocket misfired by Palestinian militants.
His Oval Office speech is likely to reiterate the strong support he showed for Israel during his visit on Wednesday, when he promised Israel it was "not alone" after the Hamas attacks in which 1,400 people were killed.
Biden said in Tel Aviv on Wednesday that he would ask Congress for an "unprecedented support package for Israel's defense" later this week.
He has already moved two aircraft carriers into the Mediterranean to deter Iran or Lebanon's Hezbollah, both allies of Hamas, from getting involved, although he has said there are no plans to put US boots on the ground.
Yet Biden has increasingly stressed the need for humanitarian aid for Gaza, which faces a looming Israeli ground invasion and relentless air and artillery strikes in which more than 3,400 people have been killed.
He told reporters on Air Force One that "I got it done," on what he called his key goal of getting aid to Gaza, with Egypt's president agreeing to open the Rafah border crossing to let in up to 20 trucks.
Biden's decision to link Israel and Ukraine in his speech reflects his conviction that both are defending what he has called the "flame of liberty" against "darkness." But it is also political expediency for a man who was first elected as a senator nearly 51 years ago. Support for Israel has long been a winner with US voters, even if he has faced a backlash from left-wing members of his Democratic party over the deaths in Gaza.
Fresh US aid for Ukraine has however been blocked by the paralysis of the US Congress in the absence of a speaker in the House of Representatives for more than two weeks.
US voters are meanwhile tired of the huge sums involved in being by far Ukraine's biggest military backer.
The White House now hopes tying Israel and Ukraine together in one huge aid package — which would also include Taiwan and the southern border with Mexico – could get things moving.