Who is Daniel Noboa, Ecuador's youngest president-elect?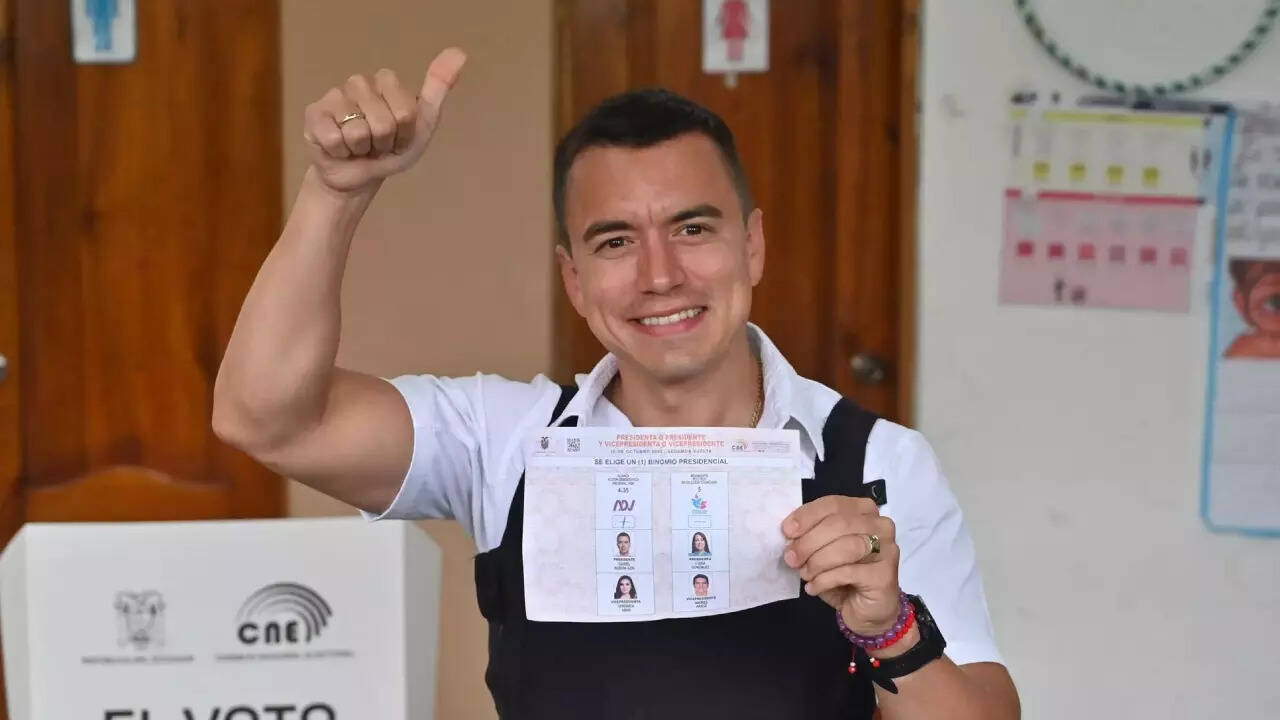 Daniel Noboa, a business scion, is set to realize a longstanding family aspiration as he assumes the role of Ecuador's president. He secured victory in the election held on Sunday, pledging to generate employment opportunities and curb criminal gangs.
Daniel Noboa has achieved what his father attempted five times without success: he has been elected as Ecuador's president. On his first attempt, he won a runoff election against a leftist lawyer. At the age of 35, Noboa, who comes from Ecuador's elite class and has received education in the US, engaged in entrepreneurial endeavors and ventured into politics.
"Tomorrow we start work for this new Ecuador, we start working to rebuild a country seriously battered by violence, by corruption and by hate," Noboa told supporters after clinching victory in the presidentinal elections. "From tomorrow Daniel Noboa starts work as your new president," he added.
Here is all you need to know about Noboa:
He won the run-off election with more than 52% of the vote, becoming the youngest president-elect in Ecuador's history at 35 years old.
He entered politics in 2021, when he was elected to the National Assembly of Ecuador as a representative of Santa Elena province for the United Ecuadorian movement. He was one of the youngest legislators in the country and a vocal critic of the government of Guillermo Lasso, who had defeated his father in the 2017 presidential election.
In May 2023, he announced his candidacy for president in the 2023 snap election, which was triggered by Lasso's invocation of the muerte cruzada mechanism that dissolved the National Assembly and called for new elections. He ran under the National Democratic Action ticket, a new centre-right party that he founded with other dissidents from United Ecuadorian. He campaigned on a platform of creating jobs, attracting foreign investment, developing the business sector, fighting crime and corruption, and strengthening democracy and rule of law.
He surprised many observers by advancing to the run-off election in October, facing Luisa Gonzalez, a leftist former vice president and ally of Rafael Correa, who had governed Ecuador from 2007 to 2017 with a populist and socialist agenda. Noboa portrayed himself as a moderate and pragmatic alternative to Gonzalez's radicalism and Correa's authoritarianism. He also appealed to young voters with his fresh and energetic image.
Daniel Roy-Gilchrist Noboa Azin was born on November 30, 1987, in Miami, Florida, where his parents were living at the time. He grew up in Guayaquil, Ecuador, as part of the wealthy and influential Noboa family. His father is the founder and owner of Noboa Corporation, one of the largest banana exporters in the world. His mother is Anabella Azin, a doctor and former congresswoman.
He studied business administration at New York University and obtained his bachelor's degree in 2010. He then worked as a commercial and logistics director at Noboa Corporation until 2018. He also obtained a master's degree in business administration from Northwestern University in 2019, a master's degree in public administration from Harvard University in 2020, and a master's degree in political communication and strategic governance from George Washington University in 2022.
(With inputs from agencies)