World Cup: Calls mount to let aid in to besieged Gaza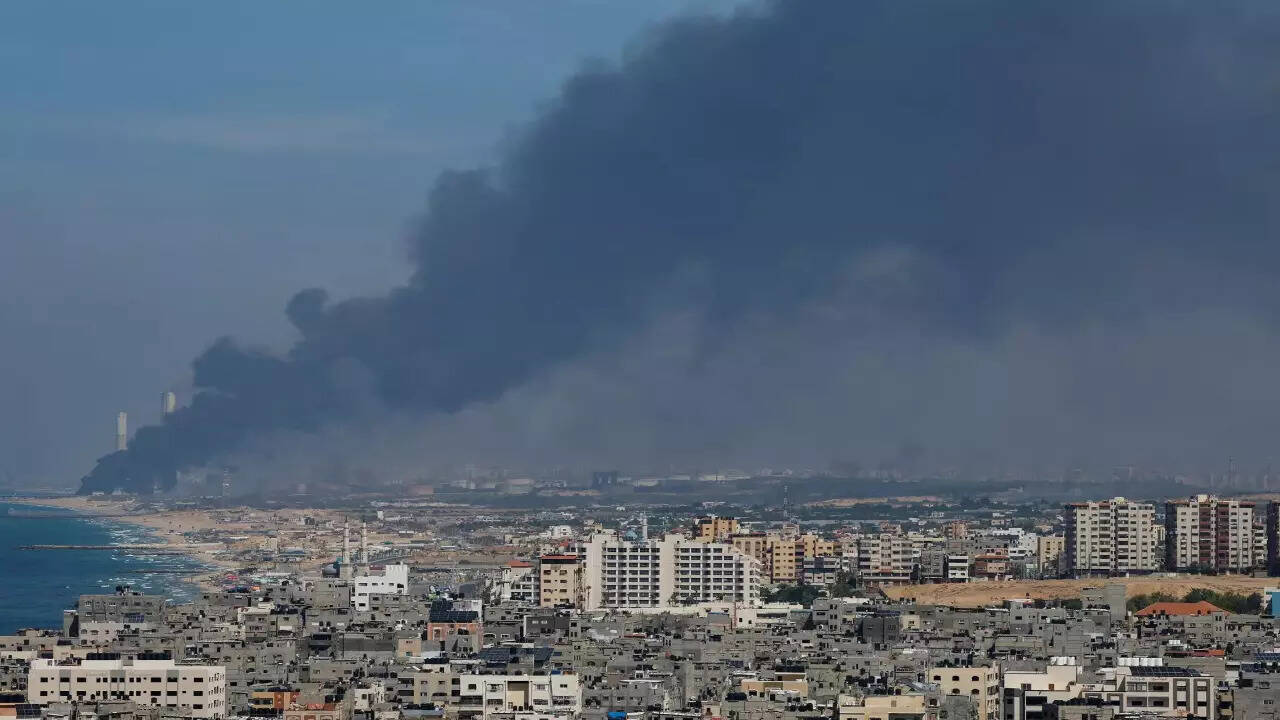 Aid agencies on Monday called for vital humanitarian supplies to be allowed into the Gaza Strip, warning time was running out to save millions of people as water supplies dried up and food and fuel stocks dwindled.
Israel
has been bombing Gaza as part of its war on Hamas, whose fighters broke through the heavily fortified border on October 7 and killed more than 1,400 people, most of them civilians.
Its response to the worst attack in the country's 75-year history has been to flatten neighbourhoods in a relentless series of air strikes, killing at least 2,750, most of them ordinary Palestinians.
It has requested some 1.1 million Gazans — nearly half the population of 2.4 million — to leave the north of the densely populated enclave, in anticipation of a ground offensive against Hamas.
But in doing so — and cutting off water, food and fuel supplies until the conflict is over — it has heaped extra pressure on a territory already struggling under a years-long blockade.
As thousands massed on the Rafah border crossing with Egypt — the only one in the Gaza Strip not controlled by Israel — Prime Minister Benjamin Netanyahu ruled out a temporary ceasefire to allow aid supplies in or foreigners out.
On Monday evening, strikes hit an area near the crossing, an reporter said.
UN humanitarian chief Martin Griffiths is heading to the Middle East Tuesday, in the latest effort of frantic diplomacy to prevent the crisis worsening.
"We need access for aid," he said in a video statement.
The regional director of the World Health Organization, Ahmed Al-Mandhari, meanwhile gave a stark warning about the situation, which he said was barrelling towards a "real catastrophe".
"There are 24 hours of water, electricity and fuel left" in Gaza, he told AFP in an interview in Cairo. If aid is not allowed in, doctors will have to "prepare death certificates for their patients", he added.
'Catastrophic'
Entire families, young children and the elderly have packed what belongings they can to flee to the southern Gaza Strip, bedding down in any available space, indoors and out.
The city of Khan Yunis, which is usually home to some 400,000 people, has more than doubled its population in days.
The UN agency supporting Palestinian refugees said Sunday that one million people had already been displaced in the first week of the conflict — but the number was likely to be higher.
At a mortuary in the southern city of Rafah, Fatma Hamouda said she lost her maternal uncles in an air strike that destroyed the family home.
"The house they were in was supposed to be safe," she said, crying.
"No electricity, no water, no internet, no cell network, no diapers, no milk. Even if we die of hunger, we will stay here and we will not leave."
Israel on Sunday said it switched water supplies back on in the south to encourage Gazans to leave the north.
The focus is now on the Rafah crossing, where a convoy of trucks with supplies is waiting on the Egyptian side.
"The situation is catastrophic beyond what I could have imagined," said Jamil Abdullah, a Palestinian-Swede who is hoping to leave after being force to sleep on the street.
"There are corpses in the streets. Buildings are crashing down on their inhabitants. Blood is everywhere. The smell of the dead is everywhere."
Diplomatic effort
US Secretary of State Antony Blinken has been shuttling between Middle Eastern capitals in recent days, hoping to coordinate efforts against Hamas while finding ways to alleviate Gaza's humanitarian crisis.
A Gulf Cooperation Council meeting of foreign ministers is to be held Tuesday, while another summit on the situation "and the future of the Palestinian cause and peace process" will take place in Cairo on Saturday.
Blinken said he was hopeful about getting the Rafah border open soon.
But Gazans themselves are effectively trapped, with neighbouring Arab nations fearful that if Palestinians leave the Strip they could be permanently exiled.
Lynn Hastings, UN humanitarian coordinator for the Palestinian territories, accused Israel of linking aid with the release of 199 hostages it says were taken by Hamas.
"Neither should be conditional," she said.
The presence of hostages is complicating any ground offensive involving tens of thousands of regular Israeli troops and reservists, who are massed at the border waiting for the order go in.
In Israel, where rocket alert sirens blared and several blasts were heard in Jerusalem, Merav Leshem Gonen is anxiously waiting for news of her daughter, who was kidnapped at a music festival on October 7.
"We don't know anything else. She's missing. That's all we know, and we want her back alive. We want her to come back healthy," she said.
Veteran right-winger Netanyahu has vowed to crush Hamas, likening it to the Islamic State group, and anger is widespread in Israel about the attack.
Harrowing testimonies from survivors and horrific scenes of devastation have bolstered that fury and resolve to wipe out the group, which is proscribed as a terrorist organisation in the US and Europe.
"I have seen babies, women and men beheaded," said Rabbi Israel Weiss, one of the leaders of the grim task to identify the victims using DNA samples, fingerprints and dental records.
'Time running out'?
UN Secretary-General Antonio Guterres has warned that the entire Middle East region was "on the verge of the abyss", as Israel faces a potential second front on its northern border with Lebanon.
Exchanges of fire have increased in the last week with Iran-backed Hezbollah, prompting the border area to be closed and civilians to be moved out.
Iran, which also backs Hamas but has denied involvement in the October 7 attack, has warned Israel about the potential for the conflict to spread in the volatile region.
That has prompted Western governments, including Germany whose chancellor heads to Israel on Tuesday, to urge Tehran not to fan the flames of the conflict.
But on Monday, Iranian Foreign Minister Hossein Amir-Abdollahian said "time is running out for political solutions".
Writing on X, formerly known as Twitter, after talks with his counterparts in Malaysia, Pakistan and Tunisia, he warned that the "probable spread of war in other fronts is approaching an inevitable stage".